The Ken Taber studio, gallery and water gardens are located at Jeramadra just south of Mogo and Batemans Bay on the New South Wales south coast.

Ken's gallery is open 9am to 5pm 7 days a week.

Some of the paintings depicted on these web pages have been sold. New paintings of similar styles are always available at his gallery.

Examples of older Ken Taber works can be found in the archive section.

For further information contact Ken at his studio-gallery on (02) 44718199 or by email at ken@kentaber.com

The Ken Taber studio and art gallery are located amid a well established water garden.

Click the map for a larger version.
Ken Taber Biography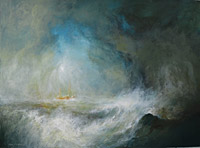 Ken Taber was born in Richmond NSW Australia in 1942.
He is a self - taught artist who paints mainly in acrylics. Ken has been greatly influenced by JMW Turner, Claude Monet and early Australian impressionistic painters.
Ken has now been painting since 1968 and has had many one man and joint exhibitions. His paintings are hung in collections around the world.
He now resides on the NSW south coast of Australia near Batemans Bay. His house and studio gallery is situated on a five acre block amidst a beautiful sub tropical water garden.